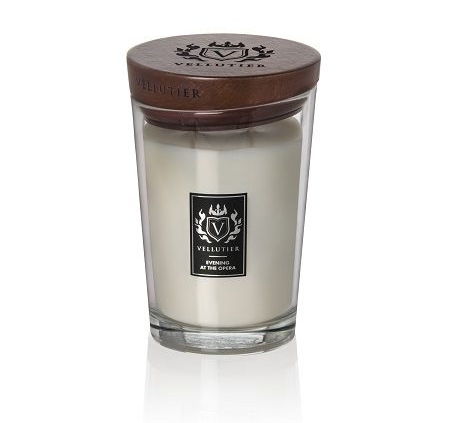 Vellutier Evening At The Opera
Deze geur brengt je naar een bijzondere sfeer. De gordijnen gaan omhoog en het orkest begint te spelen. Voel het unieke van een avond naar de opera omringd door tonen van fresia, hibiscus en lotus verpakt in poederachtige tonen van kokosmelk, kasjmier en musk.
Toon 15 Producten per pagina
Vellutier Jewellers of Fragrance!
Vellutier is een uniek merk met luxe uitstraling en de heerlijkste geuren en prettige  eigenschappen.
De geurkaarsen van Vellutier zitten in een klassieke pot van dik gegoten, helder glas met een afgeschuinde rand en in de bijpassende deksel is het heraldische Vellutier logo gegraveerd. Dit geeft de kaarsen een robuust en luxe uitstraling.
Formaten
Vellutier kaarsen zijn er in 3 formaten en elke kaars is gemaakt van was. Deze unieke was  is gemaakt uit koolzaad afkomstig van Europese gewassen, daardoor hebben de geuren een romig effect geeft.
De kaarsen van Vellutier hebben een lont van Egyptisch katoen. Deze worden vervaardig met de allerhoogste kwaliteit van deze speciale katoen waardoor de kaars rustig brandt met een mooie en schone vlam.
Wax melts
Naast luxe kaarsen in 3 formaten heeft Vellutier ook wax melts. Deze wax zit in een luxe houten kistje, dat erg veel weg heeft van een sigarenkistje. De wax melts dien je minimaal in twee delen te breken en zorgt voor urenlang een heerlijke geur in je huis. Door deze luxe verpakking is de wax ook uiterst geschikt om cadeau te geven!
Wereldreis
Vellutier heeft unieke geuren. De zorgvuldig geselecteerde geuren die gemaakt zijn tot elegante composities brengen je de hele wereld over. Bij Geurvoorjehuis.nl bieden we alle Vellutier geuren aan.